Celebrating 10 years of Arts in Health
This year the WCH Foundation is thrilled to be celebrating 10 years of our Arts in Health program.
Over the past decade the program has continually grown and now impacts over 83,000 patients each year and delivers a range of activities from visual art exhibitions, to literature and music programs, to assisted therapy using play, art and animals.
Our Arts in Health program alleviates anxiety, provides psychological support and offers creative outlets for self-expression to improve the health and wellbeing of patients and their families. Arts in Health is recognised in helping to reduce the length of hospital stays and lowering patients' reliance on pain relief medication.
To learn more about our Arts in Health program click here
Key Arts in Health achievements since 2010:
Expansion of Play Therapy
We have expanded the Hospital's Play Therapy team with 11 Play Therapists now employed and working with hundreds of children every week. Play Therapists are health professionals who through play, art and craft minimize a child's anxiety, stress and trauma associated with being in hospital.
Delivering art throughout the Hospital
The Arts in Health program has presented 179 exhibitions featuring over 1500 artworks by 420 artists across five gallery spaces plus pop-up displays of art created by young patients. These galleries provide a space away from the stresses of treatment to distract, entertain and inspire, creating a positive hospital environment.
Over the decade the program has expanded to include artist workshops with Hospital School students, Play Therapists and educators, and in 2019 we delivered our first artist in residency program.
Introducing Animal Assisted Therapy for rehabilitation
The Arts in Health program coordinates and funds the Animal Assisted Therapy (AAT) at the Hospital in partnership with the Paediatric Rehabilitation Department. The AAT program sees highly trained handlers and dogs, from The Delta Society , work alongside rehabilitation staff to support patients with their recovery.  This program has been proven to enhance the motivation of patients to achieve therapy goals and provide psychological support and companionship.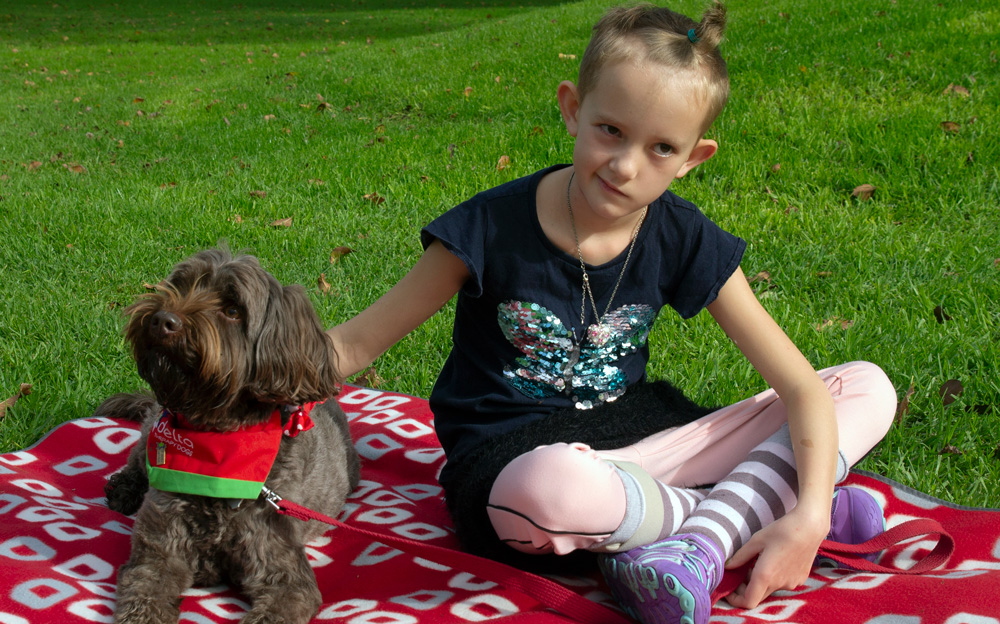 "It brightens her spirit and is something she looks forward to days leading up to and will speak about for days afterwards," said Lilia Santiago, mum of Sienna. Sienna is pictured with AAT dog Harper, who helped her to walk again and eased her anxiety.
Engaging programs that also educate
Working in partnership with Hospital School, Arts in Health has developed the Book Buddies program. Qualified book readers visit the wards daily, engaging children with the many adventures that can be had through reading books. Book Buddies encourages reading, improves literacy skills and provides distraction. In term 4 of 2019, 470 patients were visited by Book Buddies and 136 books were given away.
Our Arts in Health program would not be possible without the amazing support from our community.
The WCH Foundation looks forward to celebrating the year with an exciting calendar planned to spring us into a new decade and further expand the Arts in Health program, including:
Continuing our support of the Play Therapy service at the WCH.
Presenting 19 exhibitions, which include workshops and Artists in Residence
Expanding the Animal Assisted Therapy program to provide support to young patients with mental health issues in the Boylan Ward.
Providing more live music experiences and exploring Music Therapy services as a part of the clinical teams to support in-patients at WCH.
Back to all news