Colouring-in the walls of the Hospital
As a kid you're told not to draw on the walls – but it's been the exact opposite for patients, their families and staff in the Women's and Children's Hospital as they joined artist Anna Cherkasova to create a mural.
The wall mural 'Animals went in by A to Z' features 65 animals, including Australian native animals, which are framed by blooming foliage.
It took Anna a couple of months to draw the animals individually and create the layout. The design was projected at night and it took Anna 30 hours to draw the illustration onto the wall.
Then the real fun begun with patients, their families, staff, and volunteers bringing the mural to life with colour.
The mural is a project organised and funded by our Arts in Health program, which in 2020 is celebrating 10 years.
"The process of making this mural is as important as the final result – beautifying the Hospital," Women's & Children's Hospital Foundation CEO Jane Scotcher said.
"The chance for patients and their families to colour-in the mural provides them with distraction and entertainment, which helps to alleviate some of the stress they may feel and create positive experiences while being in hospital.
"Offering the Hospital's staff a five-minute mental health break to contribute to the mural as they walk through the corridor is a great restorative experience."
Anna said the mural has been one of her most enjoyable art projects.
"I have enjoyed all aspects of the mural project, but especially seeing children, their families and the Hospital community participating in the colouring-in," Anna said.
"I am always surprised with how people perceive the animals and what colours they use!
"I received such a positive response to the project. During the evening when I was drawing the illustration, night-shift workers loved speaking with me about the mural and seeing its progress."
Visit the mural on Level 1 of the Hospital near the entrance to the Play Deck!
Find out more about our Arts in Health program.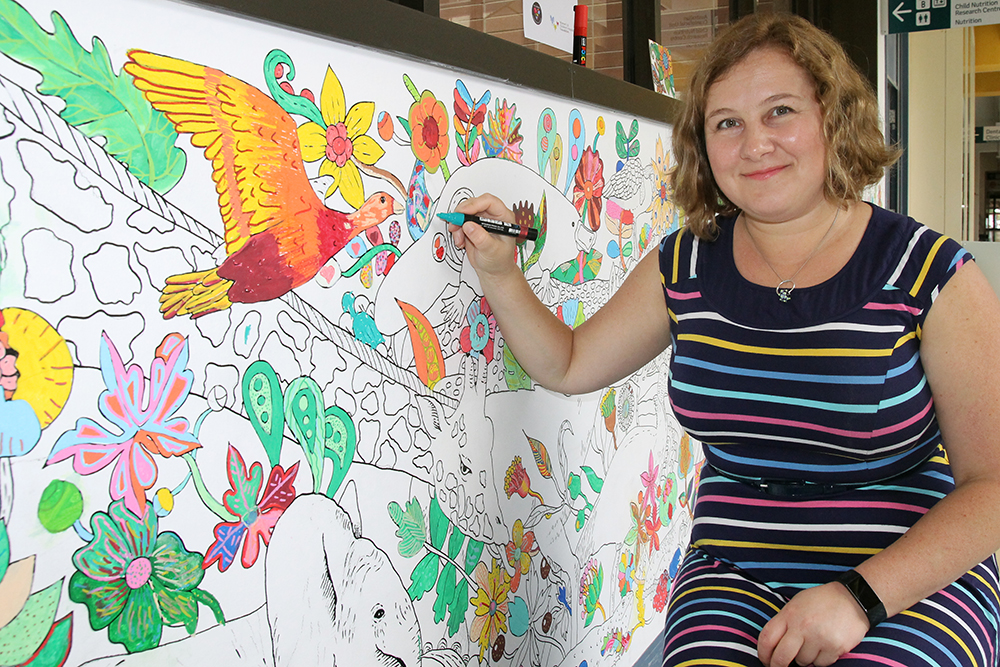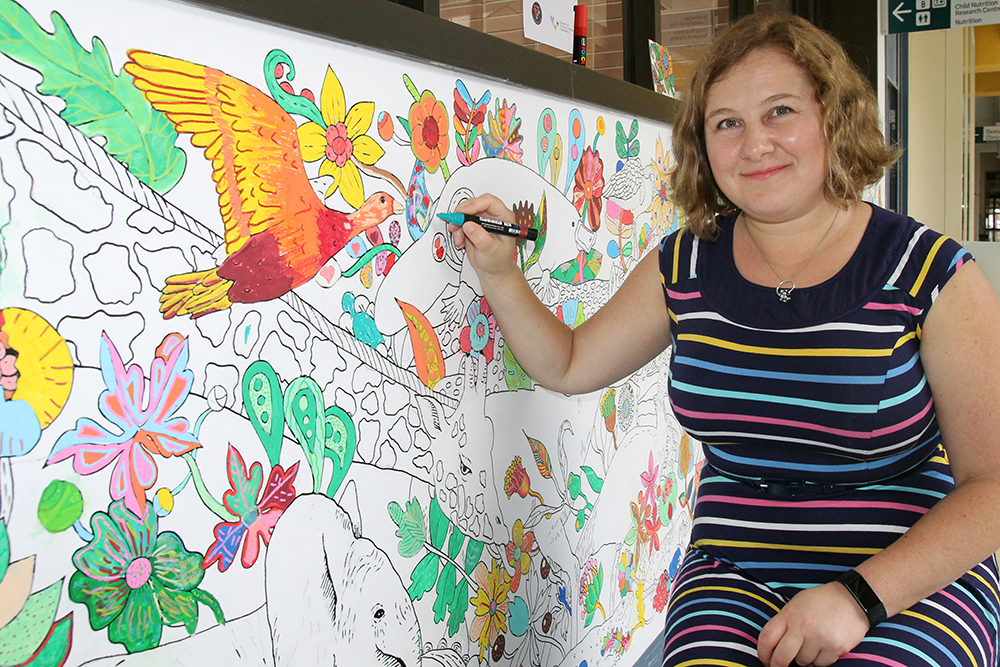 Artist Anna Cherkasova in front of the mural 'Animals went in by A-Z'.
Back to all news