Eloise Fleming: she's got a fighting spirit!
"Eloise is doing fantastic, she is crawling all over the place and is getting into mischief like all toddlers do," Nicole Fleming says of her adorable daughter.
Nicole and her husband Shannon shared the story of their twin daughters Eloise and Isla for the WCH Foundation's 2019 Christmas Appeal to raise money to support the greatest care for the Hospital's tiniest babies.
Eloise and Isla were born at the Women's and Children's Hospital at just 29 weeks holding one another's hand. Eloise weighed 480 grams and was so tiny she fit into the palm of her dad's hand.
At just four weeks of age, the cardiologist advised that Isla's heart required surgery. Devastatingly, the morning after the surgery Isla passed away.
Eloise spent almost three months in the Hospital's Neonatal Intensive Care Unit (NICU) and the Special Care Baby Unit (SCBU). She was able to go home for the first time in November 2018.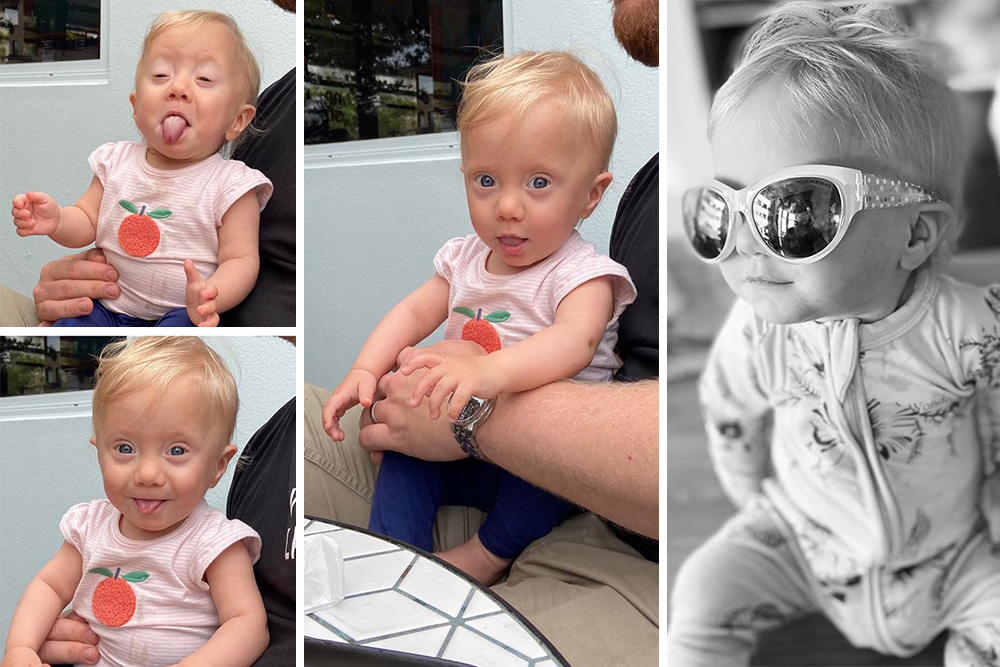 On the eve of turning 18-months-old, Nicole said the fighting spirit Eloise showed throughout the pregnancy and in NICU and SCBU is still very much evident.
"She is a little bit behind in her growth and I think she will always be small for her age, but she makes up for it in her own ways! Her size doesn't set her back – she is still strong and knows what she wants. She will try a thousand times to get where she wants to crawl. She never gives up. You can see her fighting spirit," Nicole said.
"She is standing on her own for a few seconds now and is definitely on her way to walking. At home I have had to take everything off the ground that she might get her hands into.
"Our other children Amelia, Eamon and Ciara are also wonderful at looking out for her and it's lovely to see them all starting to play together and see their relationships building.
"Amelia is definitely the mother-hen, she dotes on Eloise so much.
"Eloise is starting to do a little bit of chattering – nothing that we can comprehend yet, but you can see that she is starting to form her sounds together to make words. She is also understanding what we are saying a lot more, which is great to see."
Every day the Fleming family remembers Isla.
"On the first Mother's Day after Isla's passing, the kids and Shannon got together and made a sign called 'Isla's patch'. It's placed just past the gates to our property which we call 'our little piece of heaven'.
"While Isla never came home, we feel she is here with us."
During Nicole's pregnancy with Isla and Eloise she would spot koalas on her way to medical appointments. Sighting koalas quickly became a sign of hope for Nicole.
"The family is always on the lookout for koalas now. The kids always come up to me and say 'there's a koala, it's Isla coming to say hello'."
The Flemings thank everyone for their support of the Christmas Appeal.
"All of the donations received, and words of encouragement have been so touching," Nicole said.
"We are so grateful for all of the support and the awareness of what the Women's and Children's Hospital does, not just for us but for so many families who rely on it.
"I have friends in the Hospital now who are struggling with their little one. Just to know there are people out there supporting the great work that everyone does in that great hospital is amazing."
The Flemings, who are passionate and wonderful friends of the WCH Foundation, will host a fundraising dinner 'Collaboration for a Cause' at Lot 100 on June 20. The first Collaboration for a Cause was organised last year with close to $60,000 raised for NICU.
Stay tuned for more information on the fabulous event!
Back to all news