Innovative research encouraging vaccinations
When we think of 'research', we often picture a scientist in a lab peering down a microscope – but it can look very different. Research can involve testing new and innovative ways to encourage health behaviours in the community, such as getting vaccinated, particularly in people who are at higher risk of severe disease from infections.
Research funded by the Women's & Children's Hospital Foundation, and published in JAMA Pediatrics, a high-ranking journal of the American Medical Association, trialled the use of SMS reminders, called 'nudges', to encourage flu vaccinations in children and adolescents with chronic medical conditions.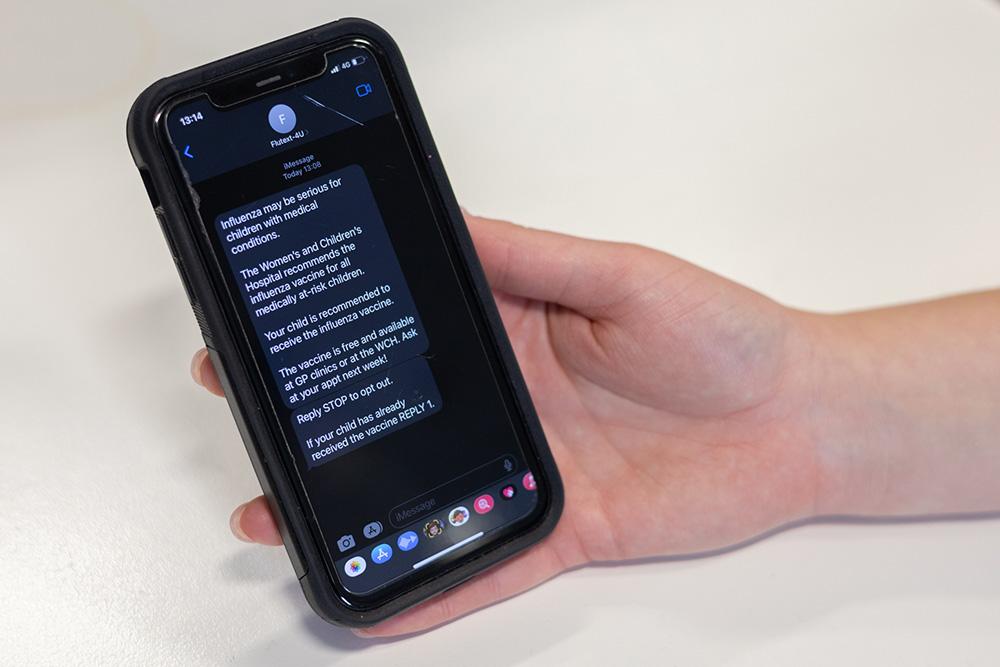 FluText-4U
The Flutext-4U project, led by Professor Helen Marshall and carried out by a team of researchers including Women's and Children's Hospital and SA Health staff, found that the addition of SMS 'nudges' sent directly to parents helped improve flu vaccination rates in children and adolescents at high risk of severe flu.
The authors have now been successful in receiving a National Health and Medical Research Council (NHMRC) grant to co-design 'nudges' to improve the uptake of influenza and COVID vaccines in pregnant women.
Professor Marshall says, "We are currently testing these 'nudges' using gold standard methods and if successful these 'nudges' could be rolled out across the Women's and Children's Hospital, hospitals interstate as well as nationally to protect pregnant women and children and reduce hospitalisation from severe flu."
This FluText-4U project is a great example of how research can lead to simple solutions for big problems, that can easily be embedded into our healthcare system to improve health outcomes and save precious healthcare dollars.
Find out more about the impact the Women's & Children's Hospital Foundation has on the health of South Australian women, children and families through our investment into health and medical research here.
Back to all news