Mirdilyayanthi window mural
This public artwork is presented by the Women's & Children's Hospital Foundation Arts in Health program in partnership with the Art Gallery of South Australia (AGSA) and the Women's and Children's Health Network (WCHN).
The WCH Foundation asked Kaurna and Italian poet, curator and writer, Dominic Guerrera, to provide a reflection about the Mirdilyayanthi Window Mural project…
Mirdilyayanthi to shine bright was originally a 2021 exhibition presented by the Women's & Children's Hospital Foundation Arts in Health Program in conjunction with the Art Gallery of SA Tarnanthi festival. The exhibition aimed to create an experience of hope and inspiration for young parents as they begin their new journey into parenthood and for other patients receiving care at the hospital.
Five Aboriginal artists of high talent and integrity were invited to create work that responded to the theme. Grace Bennett, Elizabeth Close, Shane Cook, Thomas Readett and Jacki Saunders created individual pieces that were simultaneously an expression of their inner-self and an act of love for their Aboriginality and countries.
The artworks created for the exhibition have now been taken and transformed into one large piece, Mirdilyayanthi Window Mural, a public artwork that seeks to enrich the environment of the Women's and Children's Hospital and extend the life of the original exhibition and the messages within, allowing more visitors of the hospital to experience the work and hopefully have a positive impact on them too.
The power of art should never be dismissed, as it comes from the core of our humanity.
For us Aboriginal peoples not only is art important and informative, it is also an act of healing.
Our songlines connect us to our country, our dances reaffirm the importance of the animals and the environment around us and our paintings can take us through deep cultural journeys. Intrinsically tied to our identity, our art is multifaceted and nuanced, but always an act of spiritual beauty.
It's important to note that being an artist doesn't require you to have a particular skill set, but it does require you to have the guts to be vulnerable and be willing to share that. The five artists whose work makes up Mirdilyayanthi Window Mural should be commended for their artistic courage, but also for taking up the challenge to cross paths with each other and combine their personal work into a beautiful piece of collaborative work. This unity is a reflection of how we as Aboriginal people exist, within our families and communities, our nations and cultural groupings, always together, always brave.
Whether you're here because you're starting a new family, you are healing or grieving, I hope that you also feel the power of this work and the power of these five incredible artists.
Mirdilyayanthi, something that we, as Aboriginal people know how to do so well.
We shine bright when we stand strong in culture, when we stand in the reciprocal love of country.
We shine bright like the hope within our young parents, when we show love for each other.
We shine bright when we hold our babies and nurture them, when our grandmothers purse their full lips and nod ever so slightly in our direction.
These Mirdilyayanthi artists shine bright like the collective colours that paint a sunset across the Kaurna sky.
Their collective wealth now lives in this place.
Their warmth, once seen, will be felt and held by every family that visits this artwork too.
– By Dominic Guerrera, Kaurna and Italian poet, writer and curator.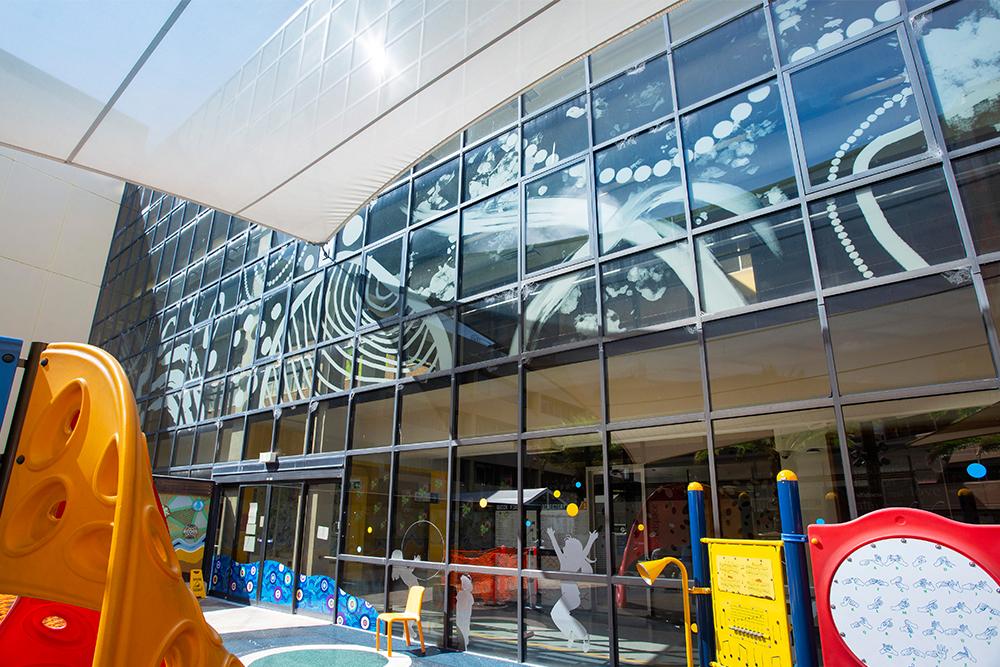 The artists
Each of the artists that contributed their images to the Mirdilyayanthi Window Mural started making art at a young age, developing their art career by maintaining a strong work ethic and creating their own unique style. All share a keen drive to keep learning and mastering their craft through mentors, peers and their family stories.
Grace Bennett, Ngadjuri people
Ngadjuri artist Grace Bennett sustains her strength and creativity through her connection to the land and culture.
"I often yarn with my family about their experiences and stories they share, as well as talking about my painting ideas and incorporating my own stories into my artworks. I use it as fuel."
Elizabeth Yanyi Close, Pitjantjatjara/Yankunytjatjara people
To create the imagery in the mural, Elizabeth, a Pitjantjatjara and Yankunytjatjara woman, explores the concept of 'wealth' and challenges the notion that the landscape is only the sum of its parts.
"Aboriginal and Torres Strait Islander people view country not as something to exploit, but rather something profound and immeasurable, something ancient and invaluable, something that shines far brighter than any precious metal.''
Shane Cook, Wulli Wulli / Guwa (Koa) People, Queensland
Shane is a proud Wulli Wulli and Guwa descendant from Queensland and a long-time advocate for supporting young Aboriginal people. Shane spent time in hospital as a 12-year-old and remembers his mother by his side, teaching him their family stories while making small dot-paintings. Shane wants his art to provide hope for young patients, and to let them know they are only in hospital for a short time.
"As an Aboriginal we need to keep going – there is no finish line."
Thomas Readett, Ngarrindjeri people
Ngarrindjeri and Arrente artist, Thomas, uses self-exploration and personal narratives as opportunities to reflect on the wider world, through themes of love, loss, and grief. For the imagery in the mural, Thomas reflected on past trauma and the act of rebuilding as he searches for the light.
"Making artwork for me is compulsory to the way I live. It is a therapy to help me work through things and keeps me staying strong.''
Jackie Saunders, Kaurna / Kokatha / Ngarrindjeri / Wirangu people, represented by Tutti Art
Jackie Saunders is a Ngarrindjeri and Wirangu artist, who describes herself as "the daughter of a saltwater woman and a desert dwelling man". Jackie's work draws on her strong sense of family and culture, it reflects her connections to both the human and natural world. It explores different weathers – internal and external – and the shape and movement of land, light and water.
"I've got my own style. It's colourful. It comes from the heart. My mum and my dad live on through me''
Take a breath
This public artwork is aesthetically dependent on the generosity and compositions of the five artists. We would like to thank Elizabeth for her support in composing the elements to form a whole – the Mirdilyayanthi Window Mural
The artists and partners of this project hope the Mirdilyayanthi Window Mural creates a space to 'take a breath' and allows a moment to find some calm in a busy health environment – a place to 'find some strength, to keep strong'.
Read the Mirdilyayanthi exhibition brochure 
Back to all news